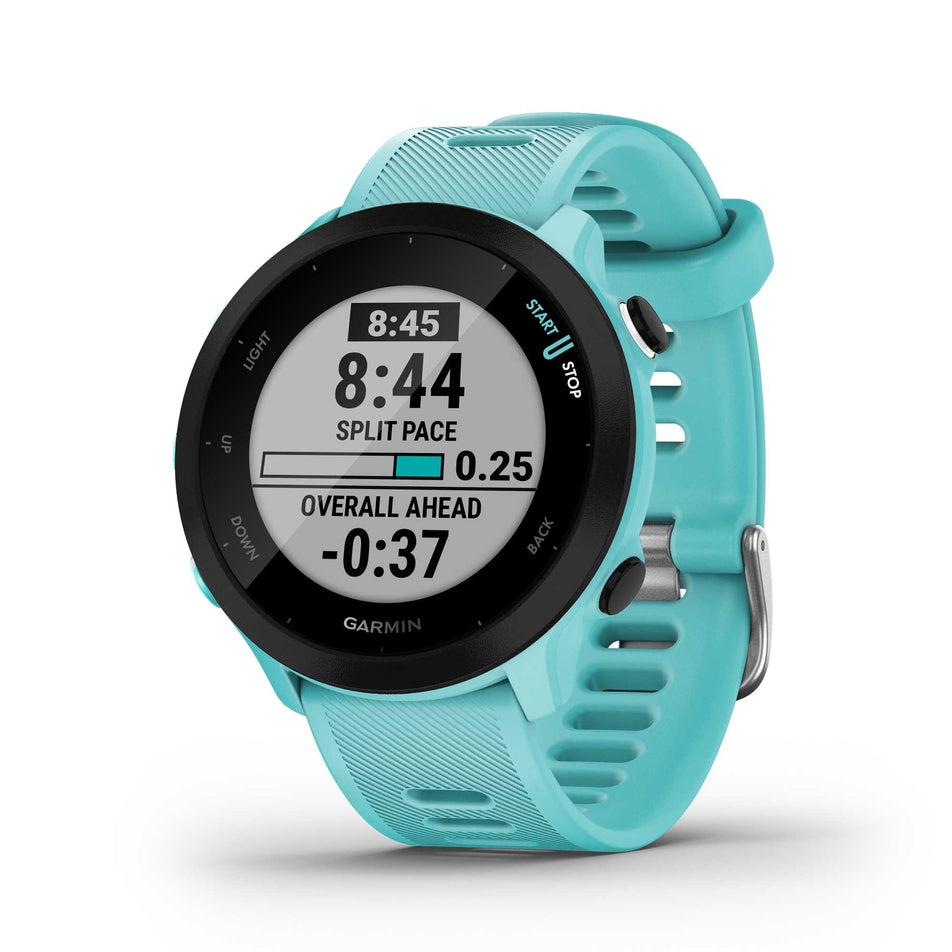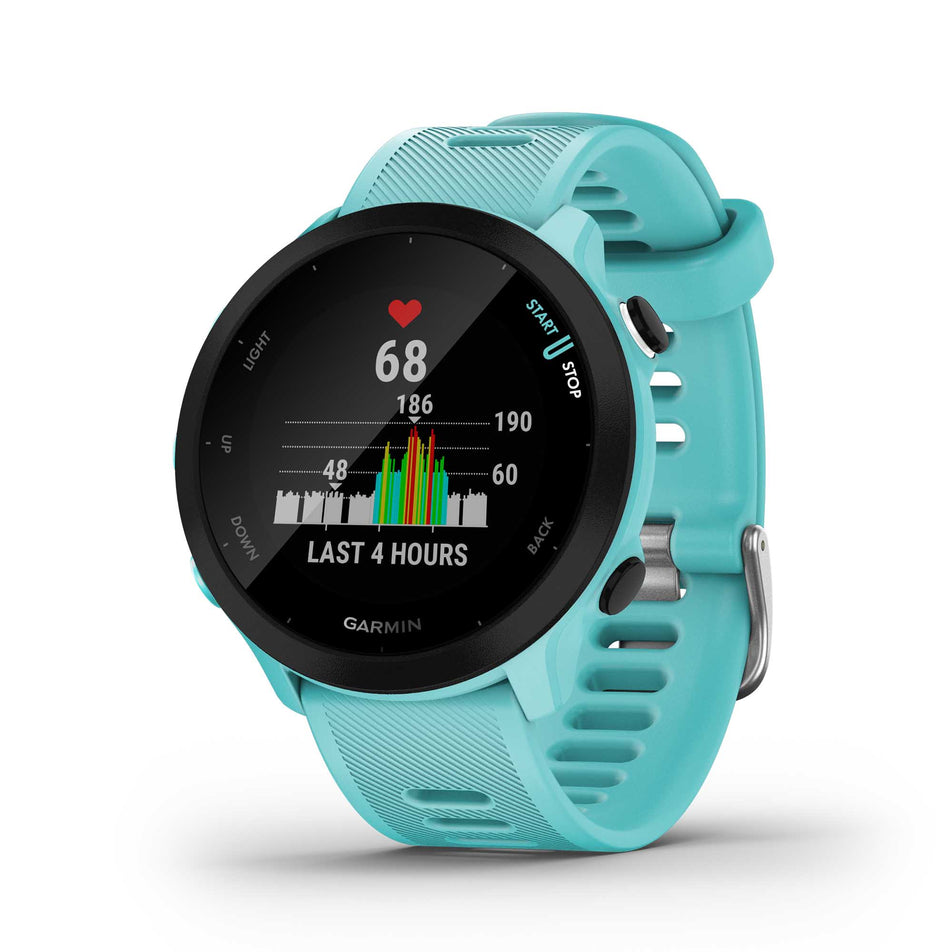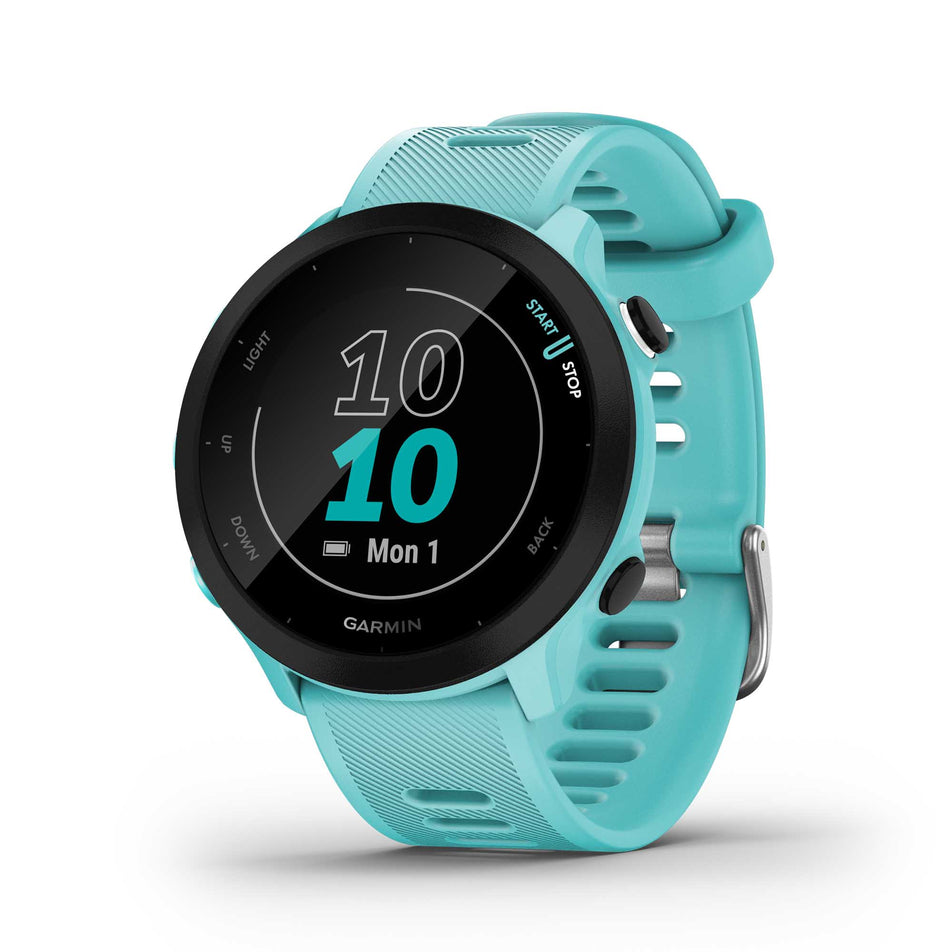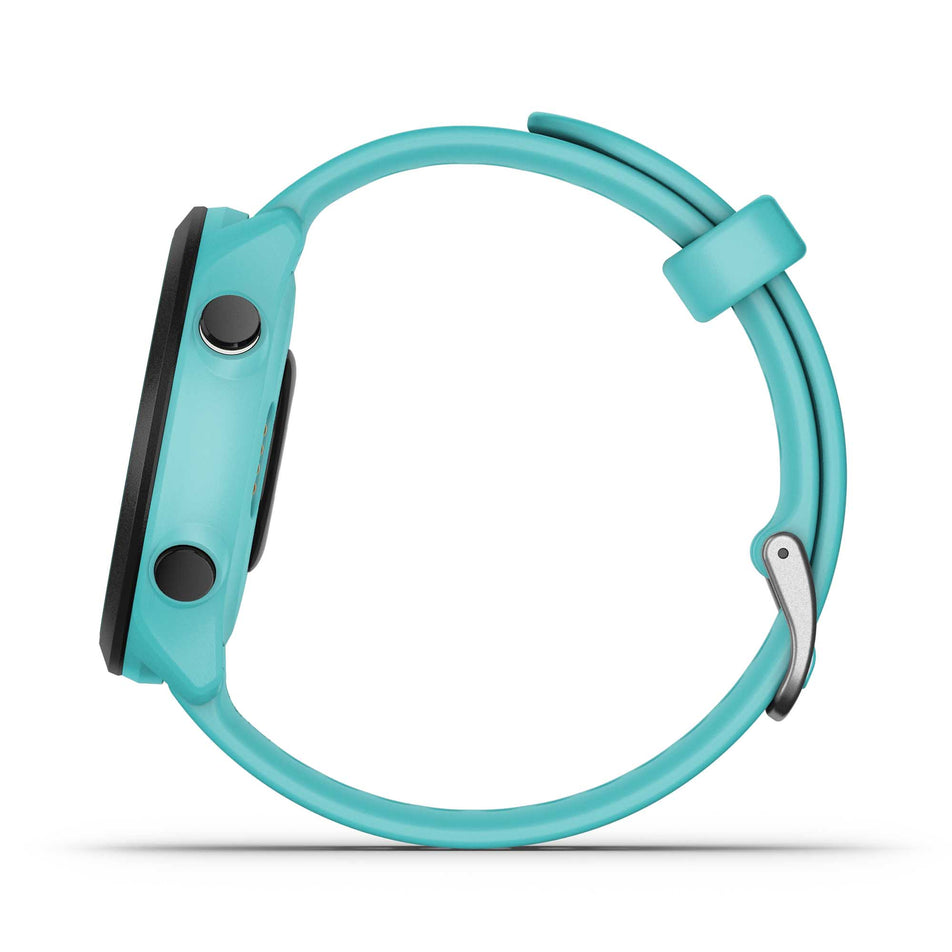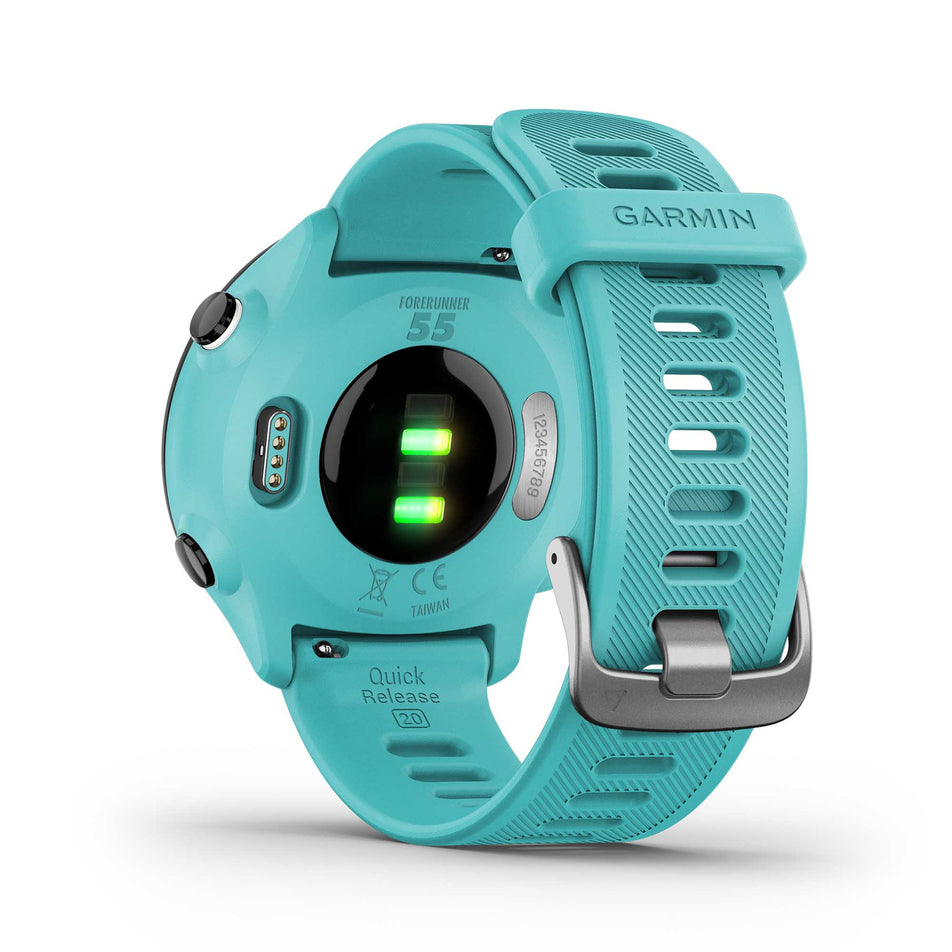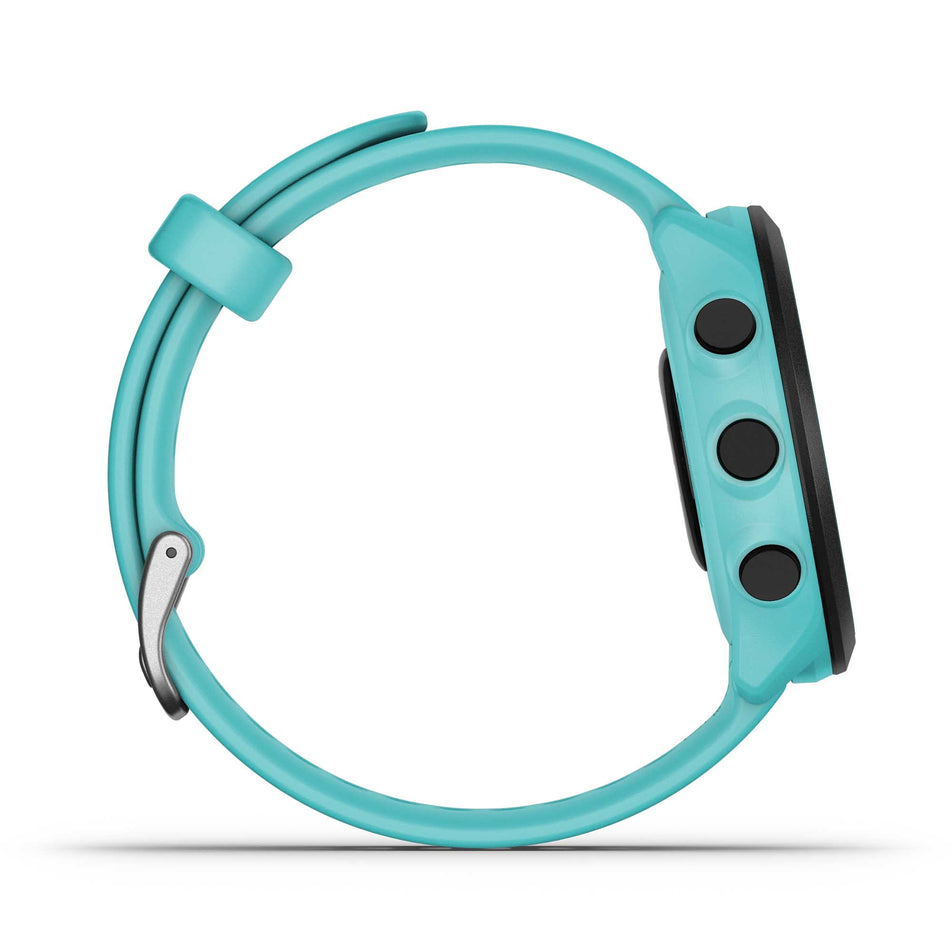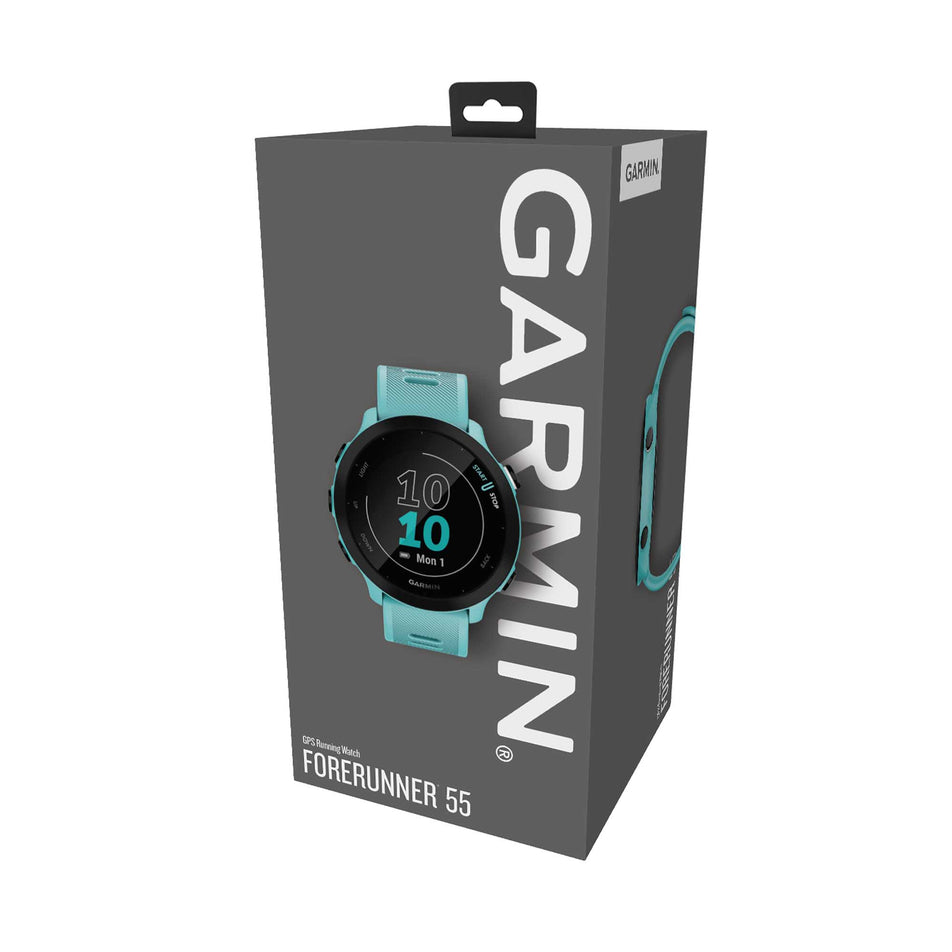 Garmin | Forerunner 55 Running Watch - Aqua
Style: 010-02562-12
Delivery & Returns
Free delivery on orders of £25 or over.
The delivery cost for orders under £25 that include a single item is £4.50.
The delivery cost for orders under £25 that include two or more items is calculated at checkout.
Gift cards are emailed to you immediately so that you can forward the gift card to the recipient at the right time.
We deliver all over the UK, including Northern Ireland. Your order will be delivered by DPD or Royal Mail. For more detailed information, please see our refer to our Delivery Information page.
We aim to deliver all orders within 4 working days. 
Free UK returns & exchanges. For more detail information, please refer to our Online Returns & Exchanges page. 
Description
See yourself as a runner.
Perfect for new and experienced runners alike, the Garmin Forerunner® 55 is an easy-to-use GPS running smartwatch, designed to enhance your running and active lifestyle. Straightforward to set up and go, simply start your run or walk with the press of a button and track your time, distance, speed, pace and heart rate* direct from your wrist.
For experienced runners looking for more in-depth tracking, this smartwatch offers detailed running data, daily suggested workouts, a variety of built-in sports apps and more. Track activity out with your daily exercise, including steps, calories, sleep and more*. Great for road runners and for taking out on the trails, the Forerunner® 55's long battery life means you can use it on multiple runs before recharging.
Technical Features:
Easy-to-use GPS running smartwatch monitors heart rate* at the wrist and uses GPS to track how far, how fast and where you've run
With the simple press of a button, a user can start their run or walk and track their time, distance, speed and more
All-day activity tracking* counts steps, calories, sleep and more
Take the guesswork out of running with suggested workouts based on your training history, fitness level and recovery time
Garmin Coach training plans offer on-screen guidance from expert coaches and free 5K, 10K or half-marathon training plans
Plan your race day strategy with the PacePro™ feature, which offers GPS-based pace guidance for a selected course or distance
Run your best with helpful training tools, including race time predictions and finish time estimates
Built-in activity profiles for running, cycling, track run, virtual run, pool swim, yoga, breathwork and more
Advanced wellness features such as intensity minutes, fitness age, Body Battery™ energy monitoring, stress tracking and more
Automatically upload activities to the Garmin Connect™ app and download custom watch faces, data fields and apps from the Connect IQ™ Store**
Battery life: up to 2 weeks in smartwatch mode; up to 20 hours in GPS mode
*See Garmin.com/ataccuracy
**Requires Garmin Connect™ app and Connect IQ™ app loaded on your compatible smartphone paired to Forerunner 55; see Garmin.com/ble